As an event caterer for over 30 years, I've catered hundreds if not thousands of weddings, corporate events, parties, graduations and more. But it wasn't until only recently that I found myself in an unusual role: wedding caterer for my second daughter Allie's nuptials with her fiancé Ryan!
In future posts I'll describe how mother and daughter worked together to plan the wedding reception menu and address the thousand-and-one details that make weddings – and wedding catering a success. But first let me introduce to you to the couple and tell you how their somewhat improbable romance came about.
While it was love at first sight for Allie and Ryan, it was difficult to see how they would ever stay together. Introduced at a party, the two Michigan college students hit it off right away and dated exclusively for over a year until graduation – and different dreams – led them apart.
Ryan was set on moving to the northern part of the state, settling in a small town, and pursuing his passions of hunting and fishing. But Allie was more of a city girl – seeking to stay close to family and friends while beginning a career in Grand Rapids, Michigan. And thus began a separation that lasted more than three years.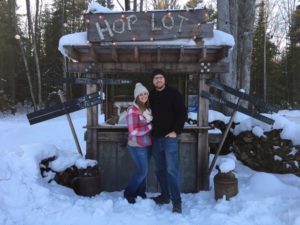 Then, in 2015, Ryan had an opportunity to reconnect with Allie … and rekindle the love that still burned bright within each. Within that one date, a commitment to togetherness was made and a compromise was struck. Ryan would move not to the "big city" of Grand Rapids, but to a smaller town within 30 minutes of it. As Allie's part of the compromise, she would learn to share his passion for the great outdoors.
Given this commitment, it should come as no surprise that Ryan's wedding proposal came not in a fancy restaurant or on a luxurious cruise ship. Rather, he and Allie became engaged on a hiking trail in a beautiful spot overlooking Lake Michigan.
We'll revisit the love story of Allie and Ryan in future posts – including their plans for marriage and experience in working with their wedding caterer – me! But in the meantime, if you come across this young couple while camping, hiking or canoeing, please wish them your best!
All about creating mouthwatering – and memorable – experiences, rely on Catered Creations to enhance your next event. From weddings and social parties to picnics and corporate functions, we've been serving West Michigan since 1986.