When Ashley Stiefel and Alec Knorr decided to celebrate their marriage on Saturday, February 11, 2017 with a wedding reception, they did everything right. They invited 190 family members and friends, reserved a spacious hall, and worked closely with their wedding caterer, Catered Creations, to refine and perfect the wedding reception's cuisine.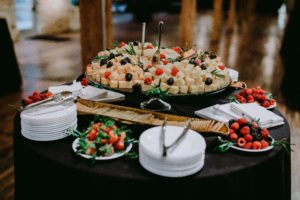 And what a fantastically diverse and delicious wedding reception menu it would be! Tested by the bride and groom's wedding party well in advance of the event, the reception appetizers included a selection of domestic and international cheeses displayed in a wreath with fresh berries, grapes and herbs, as well as mango lamb meatballs with a sweet habanero sauce. Later, reception guests enjoyed beef short ribs braised and topped with oven-roasted tomato sauce, served with creamy polenta and grilled Mediterranean vegetables. They also delighted in Emeril's Shrimp served over zoodle'd vegetables, with mango coulis and fresh cilantro.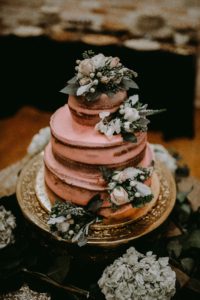 Naked hot milk cake with strawberry frosting or chocolate cake with chocolate ganache were among the wedding reception desserts. And, to sustain any revelers, late-night wedding reception snacks included mini hotdogs with orange-chipotle ketchup, grainy mustard and pickles, plus mini milk shakes of vanilla and chocolate.
But while the wedding reception guests enjoyed themselves without a care, Catered Creations, the event caterer, worked without a break! The ambitious menu was produced and plated at a hall with no kitchen, just a staging area. It was a new and unfamiliar venue. The head chef was absent due to surgery. A fuse blew in the building, so the wedding caterer's food prep had to switch during mid-menu to a food truck. And, on top of it all, the bride's great-grandmother's hot milk cake recipe was specified for the wedding cake. Another culinary challenge, and a particularly high-profiled one at that!
But while the special event catering staff talked about this one for weeks afterwards, the wedding reception's hostess and guests gushed about it!
"The late-night snack was so cool and so much fun," mentioned one. "The portions are great" and "love the beef, so tender," said others. And, last but certainly not least, the bride loved everything – and was especially touched that Patti Zylstra, the wedding caterer, "tracked me down to make sure I had my favorite shake!"
Sometimes your toughest challenges turn into your greatest triumphs!
All about creating mouthwatering – and memorable – experiences, rely on Catered Creations to enhance your next event. From weddings and social parties to picnics and corporate functions, we've been serving West Michigan since 1986.
Photos courtesy of Stephen Norregaard Photography.