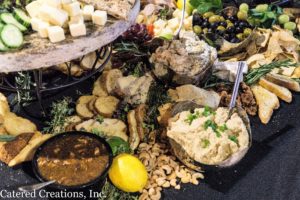 So, what is a bride and groom to serve at an upcoming wedding reception? Read any well-written catering menu and every wedding appetizer and reception entrée sounds delicious!
Of course, the same dilemma holds true when the couple needs to select a dessert for weddings, salads for receptions, drinks for the party and even vegan dishes. How do you craft a wedding menu when it all seems so appetizing? Short of crashing a dozen different wedding receptions – not recommended! – What's a bride who is intent on turning a wedding reception into something memorable and exciting to do?
Catered Creations of Grand Rapids had just the solution: On Saturday, March 25, the event caterer held a Spring Tasting Event – inviting no fewer than 200 people including soon-to-be brides and their guests to the Revel Center in Grand Rapids where they could sample a wide variety of wedding reception dishes and consult with an experienced special event catering expert to plan the perfect wedding menu!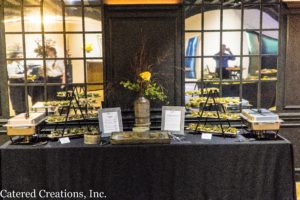 "So much great food," exclaimed one attendee about the catered event selections. And she was right!
For the wedding reception tasting event, Catered Creations served as wedding appetizers Stuffed Mushrooms, as well as Mango Lamb Meatballs with a Sweet Habanero Sauce.
Guests were invited to stop by the grazing table for wedding reception snacks. There, they sampled an assortment of cheese, relishes, cured meats, sausages, breads and crackers, hummus, grapes, sliced apples and more!
Those planning a wedding brunch were treated to a potential catered brunch menu, including entrees such as Crème Brulee, French Toast Bake and Tomato, Spinach, Bacon and Feta Frittata. Other wedding brunch catered menu items included Vegetable Hash over Cheesy Grits as well as Candied Bacon.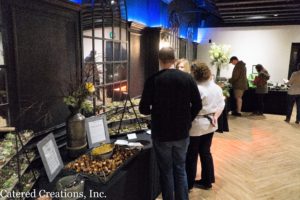 As for catered wedding dinner entrees, beef choices included Pot Roast with Root Vegetables and Smoked Brisket with a Stout Mustard Sauce. The brides-to-be sampled wedding reception dinner choices such as Honey Bird Chicken and Cilantro Lime Chicken with Sofrito Sauce. Pork was also well represented during the Catered Creations Spring Tasting Event, with suggested wedding reception menu dishes like Apple Cider Tenderloin with Braised Red Cabbage and Cider Gravy as well as Porchetta.
Vegan dinner entrees for wedding receptions available for tasting by the many attendees included Cauliflower Chickpea Curry with Basmati Rice and Mushroom Lentil Hash.
Of course, cold salads for weddings were represented with Brussel Sprout Salad with Apples and Candied Walnuts, as well as Blueberry Feta Salad with Lemon Poppy Seed Dressing.  Guests also sampled a variety of delicious wedding reception desserts. These included Chocolate Bread Pudding, Coconut Macaroons, Mini Cupcakes and Pies.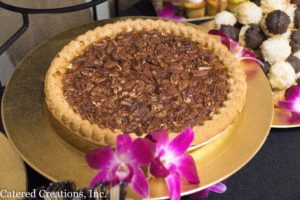 In between the countless bites and many compliments like, "That brisket is the best!" and "OMG, the cornbread is to die for," Catered Creations' owner Patti Zylstra advised visitors on various catered special event menu choices, wedding reception dishes and many other event catering questions on the minds of the guests.
"Our Spring Tasting Event was a huge success," said Patti. "After the sampling, the soon-to-be brides walked away not only full of our wedding brunch dishes and wedding reception menu entrees, but also fully informed on how an experienced and innovative special event caterer can contribute to the success of their big day!"
All about creating mouthwatering – and memorable – experiences, rely on Catered Creations to enhance your next event. From weddings and social parties to picnics and corporate functions, we've been serving West Michigan since 1986.