Tips on planning a tasteful outdoor graduation party
Your son or daughter has graduated, and it's time to set aside an afternoon or evening to celebrate with family members, friends and their classmates.
Two surefire suggestions. To accommodate a good-size guest list and take advantage of the season's nice weather while minimizing wear and tear on your house, plan the affair for outdoors.
The second recommendation? Eliminate as much "homework" as possible by engaging the services of an experienced and innovative event caterer! It's hard to be a great host, let alone enjoy the occasion if you decide to take on the duties of food prep, cooking and cleanup!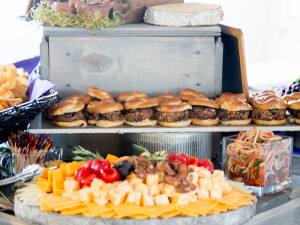 As you consider your professional graduation party catering options, remember that a graduation party doesn't require an elaborate menu or a sit-down dinner. Guests may be attending multiple grad parties on a single day, so big meals aren't expected. Because graduation parties are often held over the course of several hours in the form of an open house, the buffet line serving format is tailor-made for such events.
In light of this, when discussing the grad party with your special event caterer, consider a variety of small plates or finger foods that can be easily set out and refreshed.
Food for your graduation party: Think beyond the bun!
While hamburgers and hot dogs are traditional graduation party menu favorites, they are by no means exclusives.
Southern barbeque is one popular graduation party catering favorite, as are trays of sandwich wraps. Tacos and Mexican-themed dishes also make for great graduation party dining. And, for more ambitious graduation party food, there's Japanese cuisine such as sushi!
Let your imagination be your guide. When planning the grad party, you and your graduation party caterer may have other, even more creative special event catering dining ideas!
A tasteful finishing touch?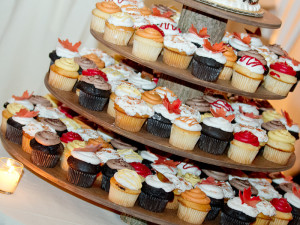 Along with graduation party entrees, rely on your party caterer for ideas on appetizers, salads, beverages and desserts. Cupcakes that are baked or decorated in the graduate's school colors are an especially tasteful choice!
"When creating graduation party cupcakes, some school color combinations are more of a test than others," said Catered Creations' owner Patti Zylstra. "But so far, no matter how difficult the challenge, we've been able to make the grade!"
All about creating mouthwatering – and memorable – experiences, rely on Catered Creations to enhance your next event. From weddings and social parties to picnics and corporate functions, we've been serving West Michigan since 1986.