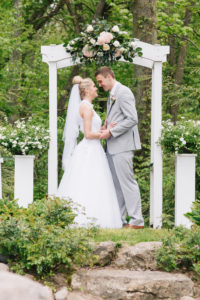 While there is never any shortage of springtime weddings, few come off as successfully as the Taylor Tepper and Drew Vos affair on Saturday, May 13, 2017!
For the mid-morning wedding and lunchtime wedding reception, Taylor and Drew – residents of Grand Rapids, Michigan – selected as their wedding venue the Post Family Farm in nearby Hudsonville.
Among the West Michigan wedding venue's many charms were an authentic farm setting, historic 1915 barn and a beautiful outdoor waterfall site, which is where the bride and groom exchanged wedding vows in front of 200 family members and friends.
Of course, for any successful affair, the choice in wedding caterers is as important as the selection of event sites, and for the Tepper-Vos wedding reception catering, Catered Creations of Grand Rapids got the nod. And, a very tasteful choice it proved to be!
Seeking a relaxed wedding reception where the bride, groom, family and guests could socialize with each other in leisure while enjoying the beautiful springtime surroundings, Catered Creations recommended a multi-step presentation of wedding reception menu items from rolling food stations.
Following the couple's 10:30 a.m. wedding vows, round one of the wedding reception began at 11:15 a.m. with grazing tables featuring fresh fruits, vegetables and nuts, dips, meats and cheeses. Attendees also enjoyed a chips and salsa bar plus an extensive beverage bar with limeade, ice tea and syrups.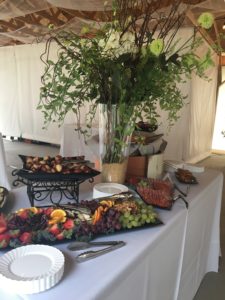 With guest appetites duly whetted, round two commenced at 11:45 a.m. Here, the newly minted Taylor-and-Drew team followed the West Michigan wedding caterer's suggestions, electing to serve grilled southwest cilantro lime chicken with pineapple relish along with fresh-roasted vegetables, potatoes and a kid-friendly mac-and-cheese bake to family members and friends.
Amidst the many congratulations, kisses and handshakes extended to the new Mr. and Mrs. Vos, round three started half an hour later. Wedding reception menu choices included smoked beef brisket with a selection of southwest and Jack Daniels BBQ sauces. It also featured Taylor's favorite baked corn bread served with honey butter.
The experience and expertise that Catered Creations brought to the party was well appreciated not only by the bride and groom, but by all. Electing to serve the wedding menu selections every 30 minutes helped maintain a pleasant and unhurried flow of wedding guests, rather than any single, long line. What's more, the rolling stations suggested by the wedding caterer meant the food was served in its most appetizing manner – hot off the grill!
The spectacular finishing touch for the Taylor-and-Drew wedding reception? S'mores trays with fresh mint as well as regular marshmallows that attendees roasted over an open fire. Guests raved at the familiar but wholly unexpected and highly memorable choice in wedding desserts!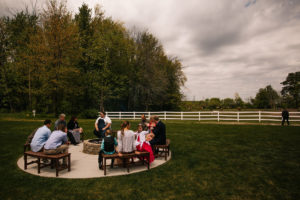 "The wedding day was like a dream come true," said the Vos's. "From the wonderful wedding venue to the rolling food stations and magnificent wedding reception menu all the way to the individually roasted S'mores, it was a perfect wedding ceremony and memorable wedding reception! Our family and friends are still complimenting us on it."
"We've catered hundreds if not thousands of wedding receptions, parties, banquets, corporate events and more over the years," said Catered Creations' owner Patti Zylstra. "It's especially satisfying when one comes together as successfully as this one. We couldn't be happier for Taylor and Drew!"
All about creating mouthwatering – and memorable – experiences, rely on Catered Creations to enhance your next event. From weddings and social parties to picnics and corporate functions, we've been serving West Michigan since 1986.
Images provided by Chrystin Melanie Photography