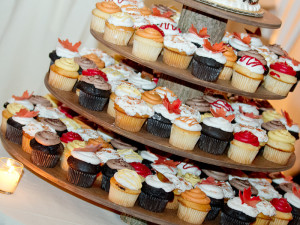 For decades, most choices in wedding desserts were seemingly guided by that famous French phrase, "Let them eat cake!"
But while this traditional dessert remains a popular choice for most wedding receptions, many of today's brides and grooms – along with their wedding caterers—are looking for new and fun ways to enhance their dessert table offerings.
Creative ideas abound! Cupcake towers are one idea, and mixed dessert tables featuring an assortment of cakes, sweets and other treats in custom colors are another. Or, consider a cookie bar with ice cold milk, a pastry assortment, or a candy buffet as your wedding dessert bar.

One sweet idea, especially for summer wedding desserts, but popular year-round? How about a make-your-own-sundae station for your event? There's a lot of creative potential. Name the flavors as something meaningful to the bride and groom. Select tropical ice cream if your wedding reception theme leans in that direction. Of course, you could substitute a gelato (i.e., Italian ice cream) station as a complement to a wedding menu with entrees from Italy!
Taking the ice cream idea to its extreme, we even know of one outdoor wedding at which an ice cream truck pulled up to serve the wedding reception guests! Talk about an inspired catering idea in place of – or in addition to – a traditional wedding dessert cake!
"With the help of your event caterer, have some fun and think outside the box with dessert catering for weddings," said Catered Creations' owner Patti Zylstra. "If 'it' is defined as something tasteful and memorable, you may find yourself having your cake and eating it, too!"
All about creating mouthwatering – and memorable – experiences, rely on Catered Creations to enhance your next event. From weddings and social parties to picnics and corporate functions, we've been serving West Michigan since 1986.