As the date of your wedding reception or other catered event approaches, you'll not only have to consider what to serve, but how to serve it.
You'll enjoy four options, with each style of serving your guests offers its own benefits and challenges.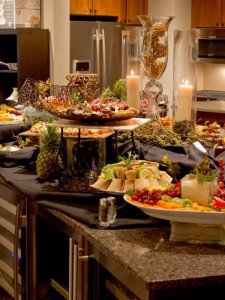 Begin with a catered buffet. Here, your wedding guests are often called one table at a time to serve themselves from an array of catered menu choices. Among its advantages, people can take exactly what they want, and in the portion size they desire. And, while a catered buffet offers a slight inconvenience of having wedding guests stand in line, it's often an opportunity for them to socialize. Another plus? Your event caterer will tell you a wedding buffet is often the most economical way to go!
One popular variation on wedding buffets is catered food stations—with one station serving hors d'oeuvres, the next salads, the next prime rib and so on. The benefits are many! Food is served at its freshest, and in quantities exactly as desired. Wedding reception guests can mingle to their heart's content. And the wedding menu possibilities are endless, from sophisticated seafood raw bars to fun "slider" or even sushi stations and everything in between! But, whereas flexibility is an advantage, visits to dispersed array of food stations may be a challenge—especially if your wedding guest list is long on the elderly and less mobile.
Another good option is family style wedding dining. Here, servers bring dishes for those at the table to share and pass. Guests can help themselves to whatever on the catered wedding reception menu suits their taste and, just like a family, the conversation among table guests is encouraged!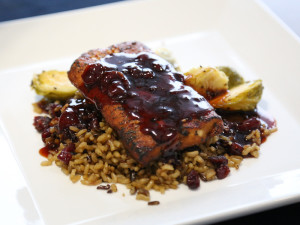 Traditional and elegant, plated dinners add sophistication to wedding receptions or other catered events. With wedding menu entrees brought to each table course-by-course by professional servers, you'll make a stylish statement and encourage conversation among served guests between courses. A challenge or two? With plated dinners, your wedding guests may not enjoy the choices a buffet might offer. Plated dinners can also be time-consuming, which may frustrate couples who are anxious to hit the dance floor and get the wedding party started!
"Consider the number of different wedding serving choices available to you as an advantage," advises Catered Creations' owner Patti Zylstra. "We'll work with you to review the number of guests planned for your wedding reception, the venue and your event menu preferences, as well as your budget. Family style and plated dinners require a staging area and preferably a kitchen to finish the meal and plate up. If your venue does not offer either, stations or buffets are the way to go. Together, we can determine the style that serves you best!"
All about creating mouthwatering – and memorable – experiences, rely on Catered Creations to enhance your next event. From weddings and social parties to picnics and corporate functions, we've been serving West Michigan since 1986.