On September 19, 2017, representatives from law enforcement agencies around the world converged on Grattan Raceway in Belding, Michigan near Grand Rapids to evaluate police vehicles from leading automakers.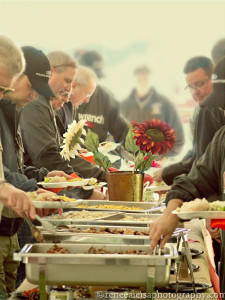 Since 1975, the evaluations by the law enforcement officials on acceleration, speed, braking and more at the annual Michigan State Police Vehicle Testing Day enable them to make informed decisions on what new cars and SUVs to purchase for their police and sheriff department fleets.
Not surprisingly, the representatives who attend the day of testing work up quite an appetite. And, that's where Catered Creations of Grand Rapids, Michigan stepped up for their long-time, event-catering client, General Motors.
"Just as the automakers want to deliver excellent performance on the track, they seek to make a great impression at their catered lunch," said Patti Zylstra, owner of the event catering company. "There's no small amount of competition, and GM was looking for us to come through!"
Under a tent at the center of the race track, the special event catering firm "wowed" GM's crowd of 350 people with an event catering menu of smoked BBQ chicken along with a Guinness Stout brisket. Side dishes for the catered lunch included loaded mash potatoes and Mexican corn. General Motors' guests at the catered event also enjoyed a Mexican Caesar salad along with freshly baked cornbread.
"Topping off the catered lunch took some imagination," said Zylstra. "But we didn't need flashing lights or a siren to get this law enforcement crowd to pull over and stop at our catered dessert table. It featured a choice of chocolate cake or key lime cake with coconut frosting!"
The catered event from Grand Rapid's Catered Creations garnered high praise from both the law enforcement guests and their General Motors hosts.
"Loved the brisket! It's the best I've ever had!" said many. "What's in the Mexican corn? It's so darned good," asked several others.
"At that point, we pleaded the fifth and stayed silent," said Zylstra. "Even under some good-natured cross-examination by the smiling officers, we declined to share our event menu secrets. No event caterer wants to share a delicious catered item recipe, let alone Catered Creations. Instead, we suggested they enjoy a second helping!"
All about creating mouthwatering – and memorable – experiences, rely on Catered Creations to enhance your next event. From weddings and social parties to picnics and corporate functions, we've been serving West Michigan since 1986.