When Allie Zylstra and Ryan Mowery decided to tie the knot in late 2017, they didn't have to look far for an experienced wedding caterer.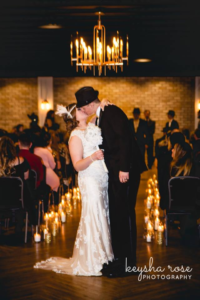 "Hey mom! Can you cater our wedding reception?" asked Allie.
"I'd be honored," said her mother Patti Zylstra, owner of Catered Creations in Grand Rapids, Michigan. "I may even give you the day off!" (Please know that Allie is an event producer at her mother's firm, managing catering for weddings, corporate affairs and other special events.)
For the wedding ceremony, Allie and Ryan selected the Revel Center in Grand Rapids. The theme? Great Gatsby glamour, inspired by F. Scott Fitzgerald's novel set in the roaring 1920s.
The bride and groom were to dress in period attire, while family members and friends were invited to complement their clothing by attending the affair in vintage fashions. Period hairpieces with feathers graced the women, while fedoras, flat caps and bowlers were popular with the guys!
Prior to the wedding ceremony, appetizers were served. Guests selected from a catered menu including sushi, spring rolls, prosciutto and berry skewers. At the conclusion of the ceremony, everyone enjoyed a toast of bubbly served by the bride and groom from a tower of flowing champagne. Cheers!
The wedding reception to follow was every bit as grand and glamorous!
At Grand Rapids' Studio D2D, guests of the newly married Mr. and Mrs. Mowery nibbled from trays of appetizers including Bacon-Wrapped Dates with Gorgonzola Cheese and Bacon-Wrapped Kielbasa as well as Original Stuffed Mushrooms and Vegan-Stuffed Mushrooms. In a nod to The Great Gatsby's setting on New York's opulent Long Island, the wedding reception menu also featured Oyster Shooters with a Bloody Mary Mix!
Meanwhile, a Chef's Selection Grazing Table served a Catered Creation's catered event menu specialty: Short's Brewery Bellaire Brown Ale in a Vegan "Cheese" Dip.
With appetites duly whetted, at 6:00 p.m. a Salad Station began serving Vegan Brussel Sprout Salad as well as a Caesar Salad with Patti Zylstra's Special Dressing. Cornbread or Dinner Rolls with Honey Butter were also on the reception menu.
Shortly thereafter, wedding reception guests flocked to the Potato Bar. Here, they selected Mashed Red Skins, Vegan Sweet Potatoes or Root Veggies. Toppings included Bacon, Shredded Cheese, Sour Cream, Butter, Brown Sugar Butter and Chipotle Butter. Other selections included Marshmallows, Pecans and Maple Syrup!
What else would delight the guests at Allie and Ryan's wedding reception? A Taco & Slider Station. Everyone appreciated selections from the reception menu that included Tri-Tip Steak, Ground Chorizo, Chipotle Sweet Potatoes and Black Beans. They also filled their plates with Sautéed Fajitas as well as Flour and Corn Tortillas and Mini Buns. As for toppings, choices included Queso Fresca, Pico de Gallo, Guacamole, Sour Cream Sauce, Cilantro and Chimichurri,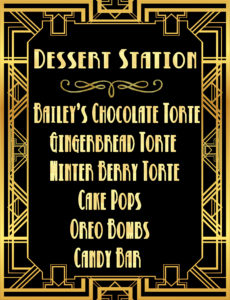 As the wedding reception guests of Mr. and Mrs. Mowery danced and socialized the night away, they dropped by the all-evening Dessert Station. Here, they enjoyed Bailey's Chocolate Torte, Winterberry Torte and Gingerbread Torte. Other reception dessert goodies included Cake Pops, Oreo Bombs and Candy Bars!
"What a super affair," said Allie. "Everyone raved about the wedding reception's delicious appetizers, Chef's Selection Grazing Table, Potato Bar and Salad Bar. The Taco and Slider Station also was a huge hit with all. And, the Dessert Station proved to be another highly popular choice."
"For all of this I thank my mother, Patti Zylstra," she continued. "As owner of Catered Creations, she's worked hard to meet the catering needs of countless affairs over the years. But for this one, it was a labor of love! Thanks, Mom, for making our wedding and reception such a complete success!"
All about creating mouthwatering – and memorable – experiences, rely on Catered Creations to enhance your next event. From weddings and social parties to picnics and corporate functions, we've been serving West Michigan since 1986.